Description
FiComms – a company developing smart technology to revolutionise the global telco installation industry.
Innovation is at the core of their business. Every product is designed to solve real problems quickly and effectively for operators in the FTTX industry. FiSpy is the first of their innovative products which takes the guesswork out of identifying microduct faults in fiberoptic cables.
The labour savings and improvements in quality by using their products will generate immediate financial benefits whilst reducing the chances of encountering expensive reworks in the future.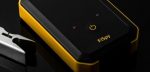 FiSpy
Breakthrough technology
Detect network problems quickly and efficiently
Solving problems through innovation
Minimise downtime and avoid lengthy, traditional methods of fault finding with revolutionary FiSpy technology
Easy to use with simple green or red indication to identify faults
MORE….